Mind Map
The concept of mind maps developed from the idea that traditional linear note taking methods stifle creative thought. By laying out ideas in a linear way (i.e., arranging concepts in a structured method) our minds are limited to left-brain thinking (logical, ordered, detail oriented). Mind mapping ostensibly encourages right-brain thinking (stream-of-consciousness, symbolic, 'big picture' oriented). 

While these ideas may seem unconnected to business, they are actually central to a range of business management concepts that have developed in recent years – most notably, the concept of 'thinking outside the box'. 

Decision making methods such as mind maps, it seems, can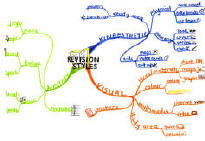 encourage the sort of creativity necessary to see beyond the deeply ingrained methods of thought that have led to such things as the linear production line. They allow enterprises to discover new ways to refine business practices, and solve problems that previously seemed unsolvable. 
An example example of a software program that was meant to be used for mind mapping is Inspiration.  Surrey School District has a district license for this program.  It actually has a button that says to work in mind mapping mode, and the program comes with a large PDF file (in pdf format) that explains how to use the program in detail.  It lets you organize your thoughts, scaffold them, change color of the lines, put in pictures to make it more graphic and in the end you can print out your results in three different manner (word, pdf, or a list format like a table of content or a web site.) to help you organize all thoughts.
Inspiration is an excellent program to help students organize any reports they will be writing because it does put the results in a word document, with the different sections listed, and their subsections.    This program is excellent also in adding web site addresses and the address of any youtube vidios (they will play right in the inspiration mode or when you save as a web site).  A great tool when doing a site map when planning a web site.  Organization is its tool of trade.
See the video below to explain mind maps a bit more.